Welcome to EFX internet

EFX internet is a full service web design, ongoing support, IT consulting, and managed web hosting company based in Binghamton, NY. EFX internet provides feature-rich web site hosting services on Microsoft Windows Server combined with inspired, state-of-the-art professional web page design. Since 2000, EFX internet has used a broad range of custom programming techniques and smart database design to make web sites more useful, unique, search engine friendly and easy to update. Simply put - EFX internet delivers effective web sites with outstanding support and great return on investment.

After all, just having a site on the world wide web is not enough! People should remember your web site, have a pleasant experience using it, and return to visit it again in the future. Contact us today to see what EFX internet can do to make your web site more powerful, productive and profitable.
News, Tips & EFX internet Announcements




Handy Samgung USB + USB-C Drive - 256 GB
[6/25/2023] - Fast and handy drive... especially if moving files between PCs and Macs. »





How to Stop Windows 10 from Spying on You
[5/12/2021] - Windows 10 collects more information about the user than any previous version of Windows, and its impossible to turn it's spying off completely. »





If You Zoom, You Need This
[11/18/2020] - If you Zoom or Facetime you need one of these for sure. They work great! »





10 Reasons Custom Web Design is DYING
[6/2/2016] - An article by Marvin Russell from 2013 that is still relevant today. Web design has changed much over the past ten years and buyers should beware that custom is often not custom at all anymore. Beautiful inexpensive templates and powerful content management systems are everywhere. Put your trust in an experienced designer to reach your business goals and focus your resources effectively. »





Welcome: The Airport Inn
[8/1/2014] - EFX internet launches a new website for The Airport Inn. »





The Death Of SEO: The Rise of Social, PR, And Real Content - Forbes
[7/20/2012] - Great article on SEO from Ken Krogue, a contributor to Forbes. »





Ten Myths About Social Networking For Business - Forbes
[8/10/2011] - There is so much noise about social media, much of it not very helpful. Myths about how and why to use these networks abound, spread by networking neophytes and experts alike. »





Build Your Own Backup Drive
[6/8/2011] - Building your own backup drive is easier than ever. And the end result will cost you the same or less than a pre-built alternative. Plus, the backup you build will probably be of better quality and have a better warranty than most pre-built solutions. »





Software Updates Made Easy: FileHippo
[7/18/2010] - FileHippo is an internet download website that offers freeware and shareware programs. It also offers the FileHippo Update Checker, a small program that scans your computer for installed software from the FileHippo catalog and suggests any available updates. »





Welcome: Long Arm Group
[6/24/2010] - EFX internet launches a new website for Long Arm Group. »





Security Scan Your PC
[2/26/2010] - Scan your PC for vulnerabilities using Symantec Security Check. »





Need Speed? ReadyBoost For Windows 7
[2/24/2010] - If you need a speed boost for Windows 7 or Vista try ReadyBoost. All you'll need to buy is a fast USB drive. »





Speakeasy Speed Test
[1/1/2010] - Take the Speakeasy Speed Test and test your connection speed! By measuring the download and upload rate you are able to accurately judge your current line throughput or internet connection speed. »





Binghamton Web Site Links
[1/1/2009] - Here are some links to local Binghamton resources. If you would like your web site added simply contact us! »





Google Chrome Web Browser
[9/3/2008] - Google Chrome is a web browser that combines a minimal design with sophisticated technology to make the web faster, safer, and easier. It may very well be the next big thing. »





Netflix Roku - Now Supporting HDTV @ 720P
[8/6/2008] - One of the coolest little $99 boxes to come around in a while - The Netflix Player by Roku allows video streaming of Netflix Watch Instantly and Watch Instantly HD titles directly to your TV, wirelessly. »





EFXi On The Front Page Of The Press And Sun-Bulletin
[4/3/2008] - Looks like we got lucky! The Press used a photo for a Binghamton Mets article today with our ad on the big screen at the NYSEG Stadium. »





PrimoPDF Free PDF Creation
[1/2/2008] - PrimoPDF is a free tool for high-quality PDF creation, comprising a user-friendly interface that enables printing to PDF from virtually any Windows application. »





Spam (Junk Email) Filtering For Your Domain
[10/1/2007] - Is your web site and email hosted elsewhere? Would like to add a giant management-free wall of spam protection to your e-mail server? EFX internet has the most accurate, effective, and fairly priced spam-blocking solution available today. »





The Best Wireless & Wired Router For Home Or Small Office Use
[7/19/2007] - We are often asked which router to buy for home or small-office use and there is an answer. »





New Servers / New Datacenter / Stellar Performance
[2/7/2007] - EFX internet is proud to announce the relocation of our servers to one of the country's newest, most-advanced Tier 4 datacenters. »

Premium Managed Web Hosting Plan Details - Host Your Site With The Best!


EFX internet servers provide your web site with 24/7/365 site availability and quick response anywhere in the world. The web site hosting business has become very competitive in the last few years and is often described as a "get-what-you-pay-for" industry. EFX internet strives to deliver a great deal of value and personalized support at a reasonable price. EFX internet does more than just host your site - we fully manage your web server and enable you to get the most out of your web presence. EFX internet does this by keeping up with new technology and continually adding functionality to our web designs and managed web site hosting plan. Features included when you partner with EFX internet are:

Your Own Domain Name

Multiple Domain Aliasing (Web & Email) Included
Domain Registrations and Renewals professionally monitored
Industry Leading Uptime with update and maintenance windows kept to a minimum
Managed Web Site Hosting Package Features
Personalized Service from a human web site expert via phone or email
Expert Consulting when you are ready to create or update your web presence
Web Site Maintenance for up to one hour per month with a professional designer
SmarterStats 7 Enterprise on-demand web-based detailed web site statistics info
Web Based Email Access webmail from any web browser info
1000 MB RAID Storage
100 GB (100000 MB) Monthly Data Transfer
20 Secure POP e-Mail Accounts
Server-Based Email Virus Scanning and Spam Detection info
Email Spam Defense via RBL & Greylisting (optional and free) info
Microsoft FrontPage and FTP Connectivity
FrontPage, Expression Web, DreamWeaver, GoLive web site authoring supported
Comprehensive Web Site Backup Solution
On-Site and Off-Site Weekly Backup with Free Restoration info
Monthly Website ZIP Archive
Streaming Media Audio or Video
Windows Media streaming audio/video server
MP3 audio file streaming via M3U
Web Page Scripting and Database Support
Microsoft ASP Scripting fully supported
Many ASP Plugins AspDNS, GuidMakr, AspHTTP, AspImage, AspJpeg,
AspMail, AspMX, Pop3Svg, AspSmart Upload, Asp.Net
Microsoft ASP.NET 1.1, 2.0, 3.0, 4.0 fully supported
PHP Scripting supported - 4.4.9, 5.3.x, 5.4.x
Microsoft Access / MySQL / MS SQL Server databases supported
All scripting and databases are supported by a friendly and competent
professional web site programmer and database architect
Secure Site Transactions
SSL secure certificates (free setup)
Enterprise Class Hardware, Connectivity and Firewall Protection
Intel Xeon Gold Quad Core / Windows Server 2019 / SSD Storage
Dell R720 / Windows Server 2019 / Dual Hexa Core Xeon / 64GB RAM / SSD Storage
Dell 2950 III / Windows 2008 R2 Server / Dual Quad Core Xeon / 32GB RAM
SonicWALL UTM Firewall & Intrusion Prevention
Servers Reside in a Newly Constructed Tier 4 Datacenter
Truly Independent DNS Setup email routes correctly even during system maintenance
Comprehensive UPS Battery Backup the power never goes out
8 16-cylinder Diesel Generators for long-term backup power
1Gbit Connectivity To The Internet on a 20Gbit Backbone
EFXi "OMEGA" Tier 4 Super-Low-Latency Bandwidth Available info
24/7/365 Real-Time Server Monitoring 99.999% historical uptime
Modern Firewall Security Setup
Add-Ons
Additional 1GB Data Transfer $2.00/month
Additional 100MB RAID Storage $1.00/month
Additional Secure POP e-Mail Accounts $1.00/month
P R E M I U M
S T A N D A R D
Managed Web Site Hosting & Support
High-Performance Web Site Hosting

Best-Of-Breed Managed Web Site Hosting with
Included Website Maintenance from a Web Pro
Web Site Maintenance Included (1 hour/month)
Personalized Service from an Industry Expert
Cutting-Edge Brand-New Tier 4 Datacenter
Dedicated Server Performance
1,000 Mbit Internet Connection
Full Database Support (MySQL, Access, MS SQL)
Full Scripting Support (ASP, PHP, ASP.NET)
1000 MB RAID Protected Storage
1000 GB (1,000,000 MB) Monthly Data Transfer
20 Secure POP Email Accounts with Webmail
Spam Filtering
Comprehensive Web Site Backups
Domain Names $15/year - No Setup Fees
Perfect for Dynamic, Interactive Web Sites
SmarterStats 5 Online Web Site Statistics
Advanced EFXi CMS (Content Management System)

High-Performance Standard Web Site Hosting with
Superior Support from a Web Pro
Personalized Service from an Industry Expert
Cutting-Edge Brand-New Tier 4 Datacenter
Dedicated Server Performance
1,000 Mbit Internet Connection
Full Database Support (MySQL, Access, MS SQL)
Full Scripting Support (ASP, PHP, ASP.NET)
500 MB RAID Protected Storage
500 GB (500,000 MB) Monthly Data Transfer
5 Secure POP Email Accounts with Webmail
Spam Filtering
Comprehensive Web Site Backups
Domain Names $15/year - No Setup Fees
Perfect for Entry-Level Web Sites
P R E M I U M P I N N A C L E
B U S I N E S S P L U S
Managed Web Site Hosting & Support
Managed Web Site Hosting & Support

All Features of "Premium" Managed Hosting and...
Web Site Maintenance Included (2 hours/month)
5000 MB RAID Protected Storage
3000 GB (3,000,000 MB) Monthly Data Transfer
Perfect for large websites with streaming video
and multimedia with room to grow.

All Features of "Premium" Managed Hosting and...
Web Site Maintenance Included (2 hours/month)
2500 MB RAID Protected Storage
2000 GB (2,000,000 MB) Monthly Data Transfer
A great package for businesses with 2 hours of
expert human support per month included.
Host Your Business Web Site With EFX internet
Contact Us today to get your new web site up and running or redesign your current site.
Web Page Design, Programming and Database Engineering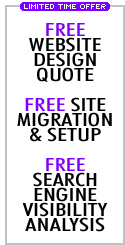 All EFX internet web sites are quoted on a per-project basis. Your business is unique and deserves more than a generic pre-made web site template. A web site expert from EFX internet will learn more about your business before recommending a site plan that fits your needs and goals. Having someone understand your business, specific needs and objectives is the only way a functional web site that will exceed your expectations can be created.

IT consulting, networking, server installation and management, database design and web site scripting projects are also quoted on a per-project basis.

Please use our Contact Form to setup a meeting or to be contacted by email or telephone. If you are in the Binghamton area we would be happy to stop by your office or business. EFX internet looks forward to the opportunity of working with you on your web project.
EFX internet Web Site Design Portfolio


EFX internet has designed and programmed hundreds of websites!
Please take a moment to view some of them in the EFX internet web site design portfolio.

Thank You!


Thanks for visiting EFX internet and please visit us again soon. News & Tips and answers to your questions are put online here frequently. If you have any questions please feel free to Contact Us.


EFX internet
The Southern Tier - Binghamton, New York
Friday, December 8, 2023 - 4:46:40AM EST
EFX internet Servers Online - 172.2 GB Free